The price refers to 1 meter or 5 meters x 25 mm you can then cut as you like
BLACK COLOR

THE BEST COMMERCIAL VELCRO
The best black adhesive velcro ideal market to attack what volote from telepass to CB to GOPRO we tested and working, you can use on bicycles, motorcycles, cars, and any other means fly. The glue is the VHB — the strongest on the market.
3M™ Dual Lock fasteners ™
The SJ3560 product provides a solution that's black makes it easy to reposition, and is still strong enough to replace mechanical fixings (then really powerful) as the manufacturer.
Adhesive: VHB acrylic-density: 250/inch peduncles ²-transparent
The attached product datasheet
Fastening system "open and close", flexible, extra strength, to fix objects/panels with a high capacity mechanical seal.
Two parts covered with peduncles, which close with the touch. The system is riapribile by pulling the two attached parts. Ideal to replace traditional fastening systems, such as screws and bolts, very useful to fix parts that often must be removed (eg: cover panels of switchboards or areas that need to be inspected). UV resistant and plasticizers.


Peduncles density: 38 per cm ²
Total thickness: 3 mm, laminated
(NOTE: THIS IS BOTH VELCRO MALE FROM FEMALE)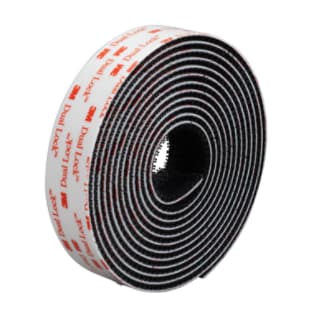 3M™ Dual Lock ™ offers you an alternative to closure with hinges, screws, buttons, hooks, bolts and more. It offers greater design flexibility, an assemblage of the product faster, smoother and cleaner.
He designed the plastic wire glass and maximum surface of metals, energy.
General and specialty vehicles, transport, military, medical, packaging, point of purchase displays, displays, electronics, construction, furniture, maintenance repair and operations (MRO).
Fixed doors, access panels, signs, the shock absorbers, the Headliners and exposure components.
Under a picture of the fixing system how it works

Dual Lock can boast ahigh capacity mechanical seal, can hold up to a kilo even under high temperatures.
The application of Telepass is not the only possible use, indeed Dual Lock può essere utile anche per attaccare il telefono cellulareor other items like remote control, spectacle cases to the dashboard.