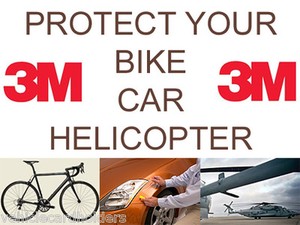 Protective transparent adhesive tape available in various measures for the protection of your medium Helicopter tape 3M™


TAPE USED TO COVER THE BLADES OF THE HELICOPTERS
220 MICRONS THICKNESS (0, 22 mm)
The tape is fully transparent, easy to apply can make even and curves and creases can easily solve the abrasion of sensitive parts and prevents damage in abrasive environments. You do not even note the application and lasts over time
Excellent for the protection of:
Shallow and protection of paint on car/motorcycle and other vehicles
Protection against Stone chips, by dents and scratches.Protection of the parties under the chain of your motorcycle, bike.
Protection against stones, insects
PpfLe film protective film for auto3M is a transparent polyurethane film, highly flexible and adaptable also on curved surfaces, therefore ideal to protect those parts of the car (but also by bike, bus, trains, boats and other delicate surfaces) that are most subject to wear caused by abrasive stones, salt weathering, tar, small bumps, friction, wear, etc.



Main characteristics of protective film: cars

An extra film of exceptional elasticity, resistant to atmospheric agents and acids.
An advanced, innovative systemsand specifically designed to be nearly invisible to the eye and totally removable.